Maintenance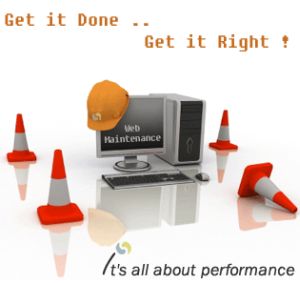 Is your website well maintained and supported once it goes live and you have started reaping the benefits of online promotion? Is your web development company taking the responsibility to provide you so called after-sale service in the online world?
STEADYSOFT takes care of every single need of your website even after its full functioning online. We offer a wide range of services from general administration work to various specialized tasks: customer service, website administration and web management.

Timely Updation
We make sure that your site is updated timely with fresh content and is in perfect shape while keeping the costs at a minimum. Website maintenance and support services are vital for success of your business. After launching your site, you need to continue developing and enhancing it based on your customer's feedback, new trends and updated with new technology.

We set the things right for you!!
Customized Maintenance Plans
Our website maintenance plans are integrated by client dedicated professional designers, programmers and E-Commerce experts who are always there when you need them. Our inexpensive web maintenance plans allows you to make an unlimited number of text revisions to existing web pages. This does not include redesigning of web pages, or adding, deleting, or editing graphics on the web pages. The monthly charges for maintenance are based on the size of your website at the time the contract is signed.

Ask us for a customized maintenance plan for your business today!